Introduction
Copyright means that when the person holds the rights of its original works. It can be anything like photography, painting, music, or anything else.
If you have created it then you own it. And Copyright Act gives you this opportunity. Copyright Protection Act provides protection for the intellectual property rights provided by the laws.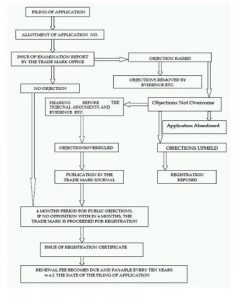 Advantages
By filing Copyright Registration, it will prevent from upcoming future Infringement cases.
If it happens that the infringement occurs after the registration has taken place or within the 3 months of publication. Then the person will be entitled to legal damages. But if infringement occurs earlier than the registration then the person will not be allowed.
Creates a public record of the Copyright holder's ownership.
If  it is being 5 or more than 5 years then, it is a sufficient evidence to prove in the court.
The statutory damages allow and it permits the court to award compensation to the owner.
In order to avoid expensive lawsuits infringement, we have to make our copyright
Apart from these, the advantages of registering a copyright also permits the copyright holders to sue infringers in a federal court and if done before or within 5 years of the publication, then it establishes adequate evidence in the court regarding the validity of the copyright and the facts which are stated in the copyright certificate.
Copyright protection renders benefits in the form of economic rights which entitles the creators to exercise control over use of their literary and artistic material in various ways such as producing copies, performing in public, broadcasting,  use on-line/on the internet, etc. and to avail an appropriate economic reward,.
One can use, reuse and reproduce the copies and can sell the copies of the work that is copyrighted.
One can deal in transmitting or the display of work by radio or video with copyright
Copyright protection enables creators to consequently be rewarded for their originality and venture.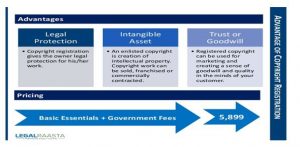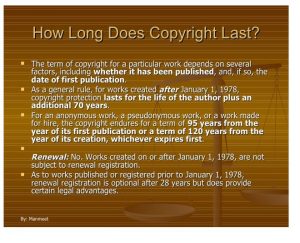 Conclusion
There are many benefits of registering the copyright. So, make your copyright registered and avail all the benefits of it.
OUR SERVICES
Company Registration I Trademark I Copyright I Patent I GST I MSME
 ISO Certification I Website/App Policy I Legal Documentation
Annual Compliance I Connect Consultant
Visit: Aapka Consultant to get Online Services of CA CS & Lawyers