Non-disclosure agreement is a kind of contract between two or more parties for keeping certain information confidential and not disclosing it to third party. Such contract binds the parties and if they commit any kind of breach of this contract then they will be liable for damages. Non-disclosure Agreement is also known as confidential disclosure agreements or confidentiality agreements or contracts of secrecy.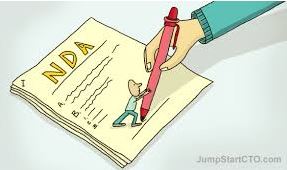 What can be protected by NDA and how it can be used?
Any type of information related to company which should be kept confidential can be protected by NDA if it does not fall under public domain. It acts as protected boundary for the matters of intellectual property. NDA is most useful in case of startups as it is important to protect the new idea of an entrepreneur. It can also be used in multinational corporations, small companies, partnerships, individuals etc.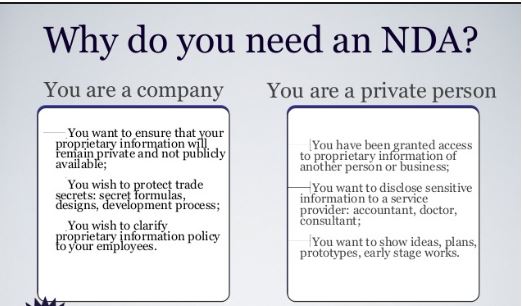 NDA ensures that your information is safe from reach of the third party but in con cases it may require to be disclosed. If court in certain circumstances requires disclosing such confidential agreement the parties should disclose it.
NDA can be of two types– Unilateral NDA and Bilateral NDA. The Unilateral NDA comes in when only one party is disclosing some confidential information to the other. Whereas the Bilateral NDA comes in when parties on both sides are releasing private information to each other for performing contract.
Legal validity of NDA-
In India non-disclosure agreement can only be valid and enforceable if it registered under Registration Act 1908. In India a Non- Disclosure Agreement should be stamped and registered to become a valid enforceable document. Stamping is a necessary procedural formality, without which your document will not under regular circumstances be accepted in Court. The rate for stamp duty on a non-disclosure agreement will vary from state to state, but it should generally range from Rs.20 to Rs.100. A non-disclosure agreement can be registered as per the Registration Act, 1908 by approaching the Office of the Sub-Registrar. The charges for the same and detailed rules for registration vary from state to state. Registration helps a long way in proving the veracity of the contents of a particular document.
Expansion in trade and commerce also needs the equal protection of rights to the broadest possible level. A non-disclosure agreement assuredly does the same by protecting valuable information of any company or individual from being disclosed or used against him for the purpose causing harm to the primary party or owner of the information. NDA acts as a protector of creative ideas or models or any kind of information which is beneficial or important to its owner.
Get drafted your NDA, by clicking here.
OUR SERVICES
Company Registration I Trademark I Copyright I Patent I GST I MSME
ISO Certification I Website/App Policy I Legal Documentation
Annual Compliance I Connect Consultant
Visit: Aapka Consultant to get Online Services of CA CS & Lawyers