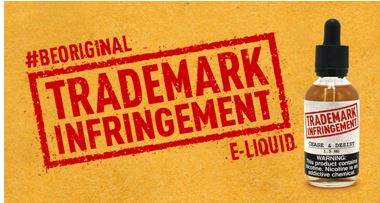 Trademark infringement means that when a person uses another person or company's trademark without the permission of the owner. It is illegal in a way to promote their goods and services and keep the customers in deception.
It says that when a person sells his/her stuff under the trademark of any other company, a customer will buy the product from him and it automatically results in the losses in the profit of the owner.
Infringement can only takes place if the owner has registered trademark because only a registered person can bring the suit against the infringer.
Under the trademark act 1991, the provisions (Section 29 and 30) and clearly laid down about the protection from infringement.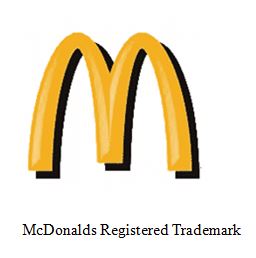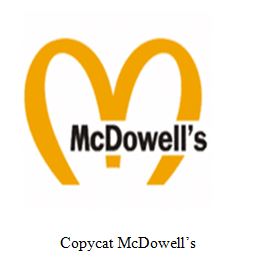 McDonalds Registered Trademark Copycat McDowell's
WHAT IS PASSING OFF?
Passing off means that when a person sells his goods as the goods of another. Then the owner can bring the action against the person. Now there is interesting thing and that is when a trademark is registered, then there is a case of infringement. And when the trademark is not registered then there is a case of passing off. For instance, if there is a company named XYLO, and it is working for 19 years. But then some other company comes and it also starts selling their products under the name of XYLO. Now the original company brings the case against the fake one. But then the company has not registered itself, so it cannot bring the case of infringement but of passing off.
LAW PROVISION RELATED TO IT?
Section28 (1) of the trademark act provides the relief against the infringement. Passing off has not been defined under the section but 27(2) talks about the trademark when it is not registered and hence it is said that in that case it will be case of passing off.
There are two types of remedies and that is civil remedy and next one is criminal remedy.
DIFFERENCE BETWEEN THE INFRINGEMENT AND PASSING OFF
| | |
| --- | --- |
| TRADEMARK INFRINGEMENT | PASSING OFF |
| Statutory remedy | common law remedy |
| Registration of trademark is required | Registration of trademark is not required |
| Proceeding under the criminal law is simple | Proceeding under this is difficult |
| The main issue was the confusion created between the people | Not only is the confusion created also a sense of deception |
CONCLUSION
Be careful while making your own trademark that it is not a copy of another person or company because prevention is better than cure.
Get Drafted Trademark Objection reply from our Experts and secure your Trademark, click here or if you want to send a legal notice for trademark infringement then kindly click here
OUR SERVICES
Company Registration I Trademark I Copyright I Patent I GST I MSME
ISO Certification I Website/App Policy I Legal Documentation
Annual Compliance I Connect Consultant
Visit: Aapka Consultant to get Online Services of CA CS & Lawyers