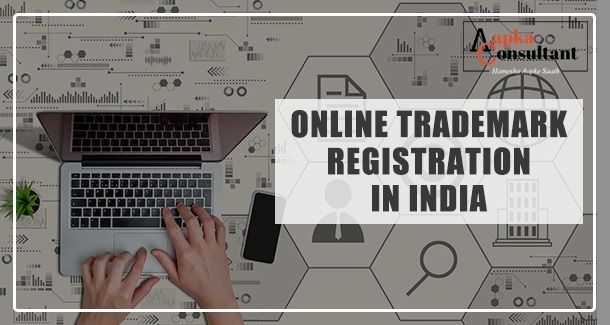 Introduction
The most valuable asset of any business is its Brand Value, the brand that is innovated, created, nurtured, invested, marketed over the years of hard work and huge amount of resource investment, the whole process takes quite a long time to establish a brand and stood distinguished in the market from that of others. Trademark registration gives business a strategic advantage over the competitors. Recognized Brand also helps the business to hit the global market and accrue benefits there from. Hence such a valuable intellectual asset of the business needs exclusive rights and shield to protect itself, which can be done via Trademark Registration at local and global forums. Aapkaconsultant.com is the leader in India to file online Trademark Registration in India and along with various business and legal services. In the present blog the Author has tried to familiar you with all the intricacies of Online Trademark Registration and benefits of Trademark Registration through various questions:-
What is Trademark
A trademark is a word, phrase, symbol, and/or design that recognizes and differentiate the source of the goods and/or services of one business from those of others. Some examples include brand names, slogans, tag lines and logos.
What rights does Trademark Registration provide?
A trademark registration will grant an exclusive right to the use of the brand name registered with the trademark department of government of India. This implies that the trademark can be exclusively used by its owner, or licensed to another party for use in return for payment. Trademark registration provides legal and certain right to the brand owner.
What can be applied for Trademark Registration
Any Word, Symbol, Signature, Logo, Numerals, Color Combination, 3D Pictures, Tagline, Sound Mark in audio format, Domain Name, Slogan etc can be applied for registration of Trademark.
Who can apply for trademark registration in India?
Any business or commercial enterprise can apply for brand/trademark registration. Individuals, Sole Proprietorship Firms, Partnership Firms, LLPs, Companies, Charitable Trusts, Government Agencies etc.
For how much period of time trademark registration is provided
The term of trademark registration is usually ten years. It can be renewed for further ten years period on payment of renewal fees. Trademark rights are private rights and protection is enforced through court orders.
Which Names cannot be registered as Trademark
Following brand names cannot be registered
Generic and Similar brand names
Name similar to Well Known and established Brand Names
Possess such nature which deceives the Public
Names which hurt the religious sentiments of Public
Names of National Importance
Prohibited under the Emblems and Names (Prevention of Improper Use) Act
Advantages of Trademark Registration
Distinctive Identity- After having registered your brand it provides your business an exclusive identity which stands your business apart from those of others. Customers and other public know and recognize your company/business with the registered brand name.
Protection from Imitators– once your brand get registered no one can copycat the registered brand name or similar or identical brand name to that of your registered brand name. Also the registered trademark owner has the legal right to make trademark opposition and trademark infringement against the imitators.
Create and Build Brand Value- Over the years, the use of registered trademark it enhances the brand value of the business; sometimes the brand value becomes much greater than other assets of the company or even the company itself. This registered intellectual property right can be sold, franchised, acquire other business also it proves as a catalyst for growth of other business products and domains owned by the owner business.
Catalyst for Growth and Expansion- Registered Trademark proves as a catalyst for business growth by making the brand from local to global via franchise and licensing model.
Different Types of Trademark Registration in India
There are two types of Trademark registration in India, one is Conventional or Traditional Trademark type which includes registration of any Word Mark, Logo, Figure or Font Mark, Tag line, Signature etc. and the second is Non-Conventional trademark which is contemporary type of trademark registration and includes Sound Mark (for example- intel inside), Colour Mark, Scent or Fragrance Mark, Motion or 3D Hologram mark etc.
Different Classes for Trademark Registration
Trademark Class is the categorisation of the brand registration on the basis of business activity, that is whether manufacturing or service providing or trading. Based on the above three types of activity the brand is applied in particular class or classes in which it falls. This classification is based on 45 International Classes of trademark registration which is also known as "The Nice Classification" which consists of total 45 classes based on the nature and type of business activity.
Class 1 to 34- Business activities involved in manufacturing and trading of goods.
Class 35 to 45– Businesses involve in Service providing activities.
Please click here to see various Trademark Classes of India.
Documents required for Online Trademark Registration in India
    Following are the documents required for filing Trademark Application
Brand Name/Logo/Tagline
Signed Letter of Authorisation of entity applying for Trademark Registration
Notarised and Stamped User Affidavit (Declaration of using the Brand Name already before applying for registration)
Udhyam Adhar (MSME) Certificate/ DPIIT (Startup) Certificate – For fee concession.
Online Trademark Registration Application Fee in India
The Fee structure for Trademark Application in India is prescribed as follows-
| | | |
| --- | --- | --- |
| SI. No. | Business Type/Status | Government Fee (Rs.) |
| 1. | Individuals/Sole-Proprietorship Firm/Startups | 4500/- |
| 2. | LLP/Partnership Firm/Companies | 9000/- |
| 3. | LLP/Partnership Firm/Companies with Udyog Aadhar registration (MSME) | 4500/- |
What is Online Trademark Registration Process in India/ How to file online Trademark Registration in India
Step 1. Design your Brand Name
Choose a Unique or Distinctive Brand name/Logo of your Choice defining your business activity.
Step 2. Chose Appropriate Class
The Chosen or Designed Brand Name/Logo is then classified in the particular Class in which your Brand will be registered.
Step 3. Search Report
The Chosen name will be searched in the particular Class that whether your desired brand name is similar to an already registered Trademark or not.
Step 4. Trademark Application-
If no similar registered trademark is found then the next step is to file the available brand name for registration in Trademark Registry India in Form TM-A.
If the application is filed through a Trademark Attorney, then an Authorization Letter is required along with the Trademark Application.  After successful filing of TM Application, the applicant can start using the applied brand name with a sign TM as in Temporary Mark. Also, the owner gets an application number to track the status of the applied Trademark.
Step 5. Examination –
After the filing of Application the Trademark Ministry scrutinize and examine the application for any default in the application, this process may take 8 to 10 months of time and at the end the Ministry may issue the Registered Trademark if there is no Objection.
In case of trademark Objection the applicant needs to reply/response to the Objection raised by the Government within 30 days of such objection.
If the response accepted then the trademark gets published in the Trademark Journal, if not then the matter goes to Trademark Hearing. If the Trademark Ministry satisfied with the submissions in hearing then the applied Trademark went for publication in Trademark Journal for third party opposition.
Step 6. Publication of Brand in Trademark Journal
After clearance from the Trademark Department the brand name published in Indian Trademark Journal for public or third party opposition for a period of 3 to 4 months. This is the most crucial period for any brand, if there is no such opposition in the said tenure then you have almost secured your brand as registered trademark.
Step 7. Trademark Certificate Issuance
If there is no opposition from any third party then the Registrar of Trademark will accept and issue the Registered Trademark to the owner of the Brand. with a right to put the sign TM along with the brand name. the TM sign signifies that you own your brand name and now you have all the legal rights to use and defend your registered trademark.
Trademark Renewal- The certificate is issued for a period of 10 years and after every 10 years one can renew the trademark for next 10 years period.
Conclusion
Building and creating a brand takes lot of resource deployment therefore we need to protect that valuable intellectual asset of the Business. A small business or brand cannot always be like that, these intellectual assets are like wings of fire which can take off the business to a next level, hence branding and protecting the brand to make your business a niche market is the call of the hour.
AapkaConsultant.com is with you in protecting your Brand/Trademark, Our Services includes from trademark registration, reply to trademark objection, trademark opposition, trademark renewal, Trademark Hearing to sending Notice for Trademark Infringement.
~~~ OUR SERVICES ~~~
Company Registration I Trademark I Copyright I Patent I GST I MSME
ISO Certification I Website/App Policy I Legal DocumentationAnnual Compliance I Connect Consultant